Farming in a changing climate: Controlling costs, cultivating resilience. The CropTec Show is regarded as one of the key technical UK arable farming events.
Held at the end of November at the East of England Showground, Peterborough in the UK, the event delivers their well-loved CropTec formula combining industry-leading exhibitors, the latest machinery and technology, networking and discussion opportunities as well as valuable updates on developments across the arable sector.
To see some of the live interviews we conducted on site and as hosted by Max MacGillivray, just click on the pictures as below.
Trinity AgTech
We go live with Trinity AgTech on Beanstalk.Global! We catch up with Anna Woodley, Dr Emily Pope & Michael Kavanagh just before Michael presents from the "award winning" (!) Trinity Show stand. Their trusted software elevates farmers to the heart of the food and farming ecosystem. Their mission is to be the farmer's trusted partner in achieving their full potential by maximising the environmental progress, product provenance, and financial prosperity of the agriculture sector.
Timac Agro UK
We caught up with Bobby Sandeman & Nico Papworth of the great Timac Agro UK business on Beanstalk.Global. They are one of the principal sponsors of the Show and the gentlemen and their colleagues are specialists in plant and animal nutrition with extensive expertise in crop nutrition, soil conditioning and fertiliser efficiency and offer a specific range of fertilisers adapted to local soils and farmers'​ needs.
Fera Science
We went live with the most excellent team of Fera Science Ltd. including Neill Hogg, Chloe Acland & Callum Logan on Beanstalk.Global. They are literally "saving the world" as Chloe rightly states in our catch up!

Their vision is to support their partners to respond to the challenges ahead through original thinking and world class science. As the largest Plant Clinic in the UK, their work supports healthy plants and crops and ensures your continued growth. They are experts in identifying pests and diseases, enabling you to make in-field decisions and taking action to minimise yield loss and maximise margins. They also have a UKAS accredited nematology testing facility for PCN and free-living nematodes as well as the facility to test for pests and diseases of bees and mites in relation to food storage.
AHDB – Harry Henderson
 Harry Henderson -Technical Knowledge Exchange Manager for the great AHDB team on Beanstalk.Global! He had just stepped off stage from speaking at one of the key seminars as he presented on cost management in arable farming and tacking barriers to regenerative agriculture. Listen in, Harry certainly knows his "stuff" and again another reason why you need to fully dial into the services that the AHDB offers the sectors.
Map of Ag and Pure Farming
We went live with Alastair Grizzell & Julian Gairdner of the hugely progressive Map of Ag business on Beanstalk.Global! They connect data from farms and the food supply chain. Their Pure Farming platform cleanses and standardises data from the wide range of sources to help organisations across the supply chain. Whether it be the carbon footprint of a beef farm, the product quality of wheat, the water usage of fresh produce, or the provenance of a pint of beer, their systems have been built to connect data across the supply chain to provide transparency and support organisations and food producers in their management decisions.
Omega Crop
We go live with Omega Crop and Jared Bainbridge – CEO at their show stand with Beanstalk.Global…they are a very interesting business and one to watch. Omega Crop is a remote-sensing crop modelling company that uses a mosaic of data sources (for example: satellites, drones, mobile phones, hyper-local weather) to monitor and evaluate the performance of an entire farming operation.
If you would like us to attend your show or event in the UK or Internationally, please contact us direct to find out how by emailing us at info@beanstalk.global or call +44 (0)1284 715055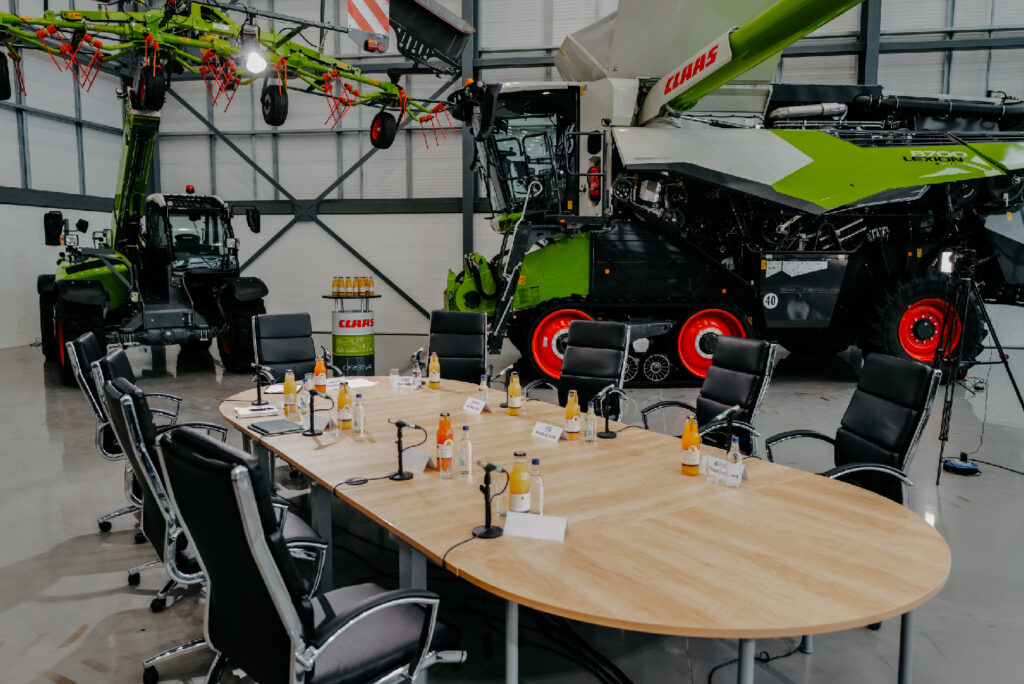 We are keen to run further Circle of Leader Broadcasts across the industry sectors both in the UK & Internationally. If this was of interest to you and you sectors, just contact the Beanstalk Global team direct – info@beanstalk.global or +44 (0) 1284 715055