The leading Agricultural, Ag-Tech, Fresh Food Sectors Trade, Political and Finance Leaders recently came together for a Filmed Debate on The Seismic Issues of the Day at CLAAS UK HQ.
"How Do We Collectively Create the Solutions We All Want To See In Such Turbulent Times….?"
The Circle of Leaders is a grassroots initiative, created in the spirit of Beanstalk Global' s overall mission to support, educate and promote the agricultural and fresh food sectors in the UK and Internationally to help them thrive and grow.
Beanstalk Global is the only brand platform in the UK and International Agri-Business and Fresh Produce Sectors dedicated to creating the conversation and creating the difference. Under the editorship of Max MacGillivray, Beanstalk Global is the go-to platform for key businesses, trade groups, country embassies and the associated affiliated sectors to deliver highly engaging content across multiple platforms: in digital, video, events, online and social.
With over 250,000 online unique users and nearing a million trade views from over 180 Broadcasts on a huge range of differing industry subjects, Beanstalk Global continues to look to address the industry issues of the day and create solutions.
We believe passionately in the power of collaboration and informed debate to change attitudes, create new fulfilling partnerships and, ultimately, assist our sectors ongoing to create positive change in the world.
The purpose of the Circle of Leaders initiative is to create understanding and learnings from some of the UK's most important and inspiring industry leaders. From this we want to create a community of curious souls to engage with their ideas, their debate and with each other to create positive change ongoing.
We gathered a select range of key individuals from the trade sectors, from politics and from investment to engage in a professionally filmed and recorded debate at CLAAS UK HQ.
On the panel were:
Andy Allen – CEO – Oasthouse Ventures
Sarah Calcutt – CEO – City Harvest
Dan Cross – MD – Dyson Farms
Thomas Oatey – Surveyor – Fisher German
Nicholas Saphir – Chairman of AHDB
Jaz Singh – CEO – Innovation Agritech Group
Dr Trish Toop – Chief Technical Officer for Agri-Epi Centre
Jack Ward – CEO – British Growers
Chaired by Max MacGillivray of Beanstalk Global
To watch the broadcast, click on the image below, to listen to the broadcast as a podcast, click on the podcast icon below.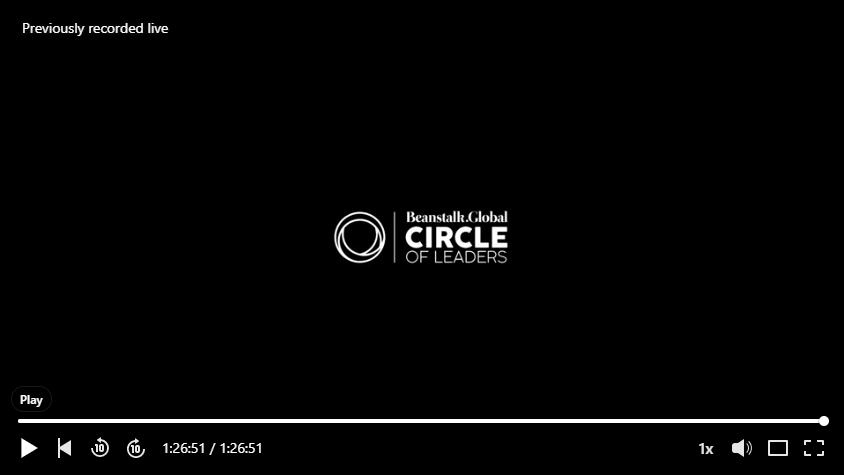 Filmed late November 2022 at CLAAS UK HQ.
 We are keen to run further Circle of Leader Broadcasts across the industry sectors both in the UK & Internationally. If this was of interest to you and you sectors, just contact the Beanstalk Global team direct – info@beanstalk.global or +44 (0) 1284 715055