Beanstalk Global – Women In Food & Farming -June Broadcast with Guest Speaker Clare Keegan of Harper Adams University – discussing Degree Level Apprentices – Benefits & Challenges for Participants & Employers "
"Women in Food and Farming" is a group of professional women in food, agriculture and the land-based industries at all stages of their careers, who get together to discuss business issues, support each other via mentorship and advice, and help generate networks of contacts that might be useful to themselves and their businesses.
Founded in 2011 by Christine Tacon CBE, the group started back in 2011 with just five women and has now grown to over 500 members. Christine is known to many as the first Grocery Code Adjudicator and head of the Co-op's farming business, she has just been appointed Chair of Assured Food Standards which operates the Red Tractor Assurance scheme amongst other roles.
Beanstalk is very proud to offer our extensive platforms to allow Women in Food and Farming to continue their conversation and debate and to encourage new members ongoing to join them, be that on a virtual Broadcast basis.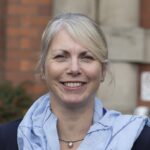 In our June Broadcast, we have the great pleasure of Clare Keegan, Business Development Manager at Harper Adams University joining us to discuss Degree Level Apprentices – the Benefits & Challenges for Participants & Employers.
Clare's role is aimed at managing collaborative and commercial relationships, strengthening Harper Adams University's links and opportunities with regional, national and international businesses and other activities to support the growth and increase the diversity of students and apprentices.
She has worked in Higher Education for the past 16 years, although she left for a short time to set up and manage Apprenticeships for Large Retailers and to develop a sales team in the Digital Ceramics Industry. Clare has also worked across Food and Drink Manufacturing developing skills and training programmes.
In her last three years in HE the focus has been on the development of new degree apprenticeships and Employer links, including the operational aspects of contracting, funding and delivery for large and small employers. Harper Adams University is now a fully approved apprenticeship provider developing new programmes each year.
Clare has previously developed projects in knowledge exchange and enterprise, including Knowledge Transfer Partnerships (KTPs), Growth Fund and Innovate UK. She networks with Partners across the West Midlands and national business/skills committees, LEPs, Chambers of Commerce and subject specific organisations and represents Food and Drink and Agri-Tech on the Telford Business Board. She contributes to bids for additional funds related to business and enterprise development such as the Catalyst Fund, Higher Education Innovation Fund (HEIF), European Social Investment Fund (ESIF) and the Local Enterprise Partnership (LEP) and Regional Growth fund. She has written many enterprise and innovation award nominations for Business including the Queens Awards.
She is currently working on a new Benchmarking Project to benchmark productivity for companies who employ apprentices. And as a member of the West Midlands Apprentice Ambassadors Network she assist organisations who want to know more about Apprenticeships.
To listen to the Broadcast, just click on the picture as below. To listen on the Podcast, just click on the Podcast icon.
If you would like to become a Partner Sponsor to promote your products or services with this unique UK and International Broadcast series, please either email: info@beanstalk.global  or call +44 (0)1284 715055.
We know how important it is to be inspired by both big
Want us to host your event?
With more than 20 years experience of managing global events, combined with award winning marketing campaign credentials, and an extensive global reach, our team can help you promote your message to the right people, and help you succeed
Natural Complex Plant Biostimulants
Formulated with naturally occurring minerals, producing healthier plants and increased profit for growers
Stay curious.  Sign up to hear about Events, Campaigns, News and more