The 89th National Fruit Show was on 2nd – 3rd November 2022 at the Kent Showground in Detling near Maidstone in Kent.
The Marden Fruit Show Society is a Charity run by a voluntary committee who represent many different facets of the fruit industry. The aim of the Society is to promote the better growing, grading and marketing of fruit. The Society organises the National Fruit Show, which acts as a meeting place for the industry. The centrepiece of the show, held each Autumn, is the largest competitive display of commercially grown top and soft fruit staged in the UK.
Beanstalk were delighted to be attending this year's event. Max MacGillivray – Editor in Chief of Beanstalk Global, conducted a set of live interviews. Click on the images below to watch.
Sarah Calcutt, Executive Chair of the Show.
Steve Maxwell & Tony Harding of Worldwide Fruit.
Jack Ward, CEO of British Growers Association.
Matthew Goodson of BASF Agricultural Solutions.
Clarke Willis MBE.
Samantha Smith, Educational Officer for the show.
Emily O'Brien, Councillor, The Green Party.
Rob Saunders & Chris Hoskins of H L Hutchinson Ltd.
Christine Tacon CBE & the Team at MDS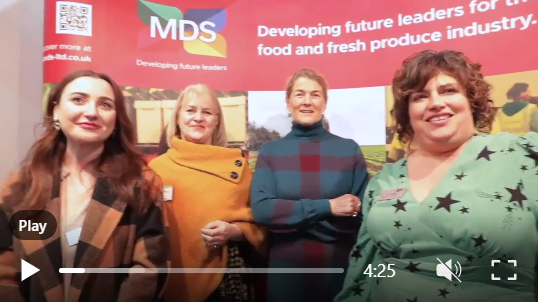 Claire Seymour, N P Seymour.
To find out more about the National Fruit Show and to book your FREE tickets CLICK HERE. 
Would you like us to promote your event on a similar basis? We have a great and proven track record of creating B2B success on an international basis in Agricultural, Fresh Produce and Fresh Foods. CONTACT US TODAY TO FIND OUT MORE.