We know how important it is to be inspired by both big businesses and individuals, which is why we are excited to present Talking Leaders, a bi-monthly initiative from the AHDB which will see a series of inspirational speakers share their life experiences and deliver impactful stories to the AgriLeader community.
In our December broadcast we were delighted to be joined by Bonnie Huval – former space shuttle and Spacelab engineer from the NASA Johnson Space Center to discuss (amongst other things) "What does it take to get someone to the moon?"
For a while, she led the team that tested space shuttle communication systems to find out exactly how they would behave under every conceivable mission condition. She also wrote some of the software to handle life science experiment data from Spacelab.
After leaving the space programme, she became an independent consultant. She is often involved in complex, strategically important projects with daunting technology and business process challenges. Bonnie has a knack for solving problems by looking at them upside down or sideways.
Join our broadcast for an insight into the world of a former space shuttle engineer and to be inspired to look at problems through a different lens.
To watch the Broadcast, click the picture as below. To listen to the Podcast, click the Podcast icon.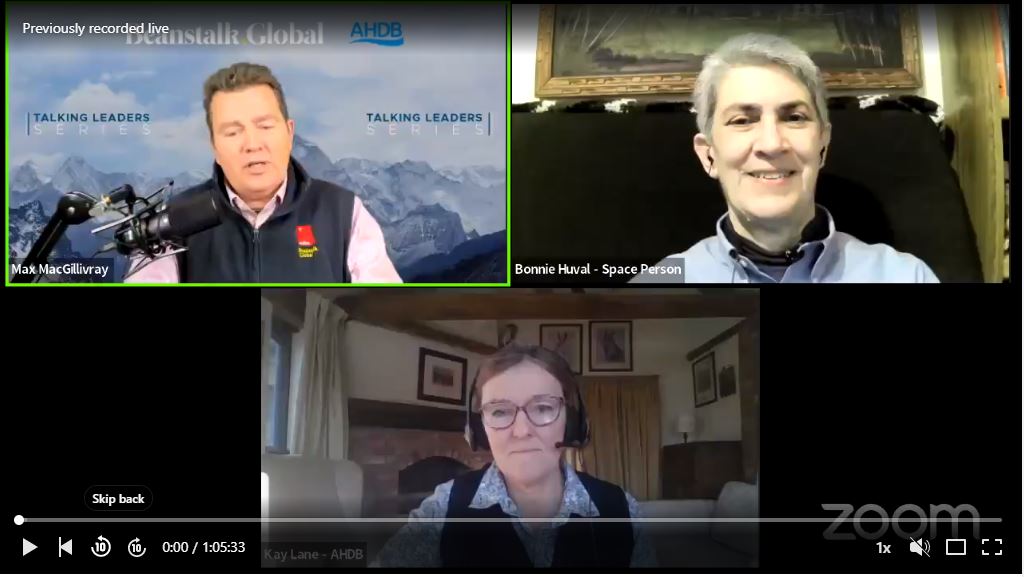 Filmed 15th December 2022.
If you would like to be kept in the loop about future AgriLeader activity and events, or perhaps just want to find out more about it, get in touch by CLICKING HERE.
To find out more about the AHDB, CLICK HERE.
If you would like to become a Partner Sponsor to promote your products or services with this unique International Broadcast series, please either email: info@beanstalk.global  or call +44 (0)1284 715055.